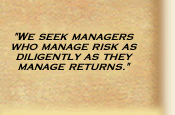 Research and Services for Investors
Once a client of Hennessee Group, we offer the following research and services:
Hennessee Hedge Fund Select Program® (Customized Hedge Fund Portfolio)

Ongoing Research

Hedge Fund Industry Performance Summary and Economic Commentary

Portfolio Performance Monitor

Manager Performance Monitor
The Hennessee Group is also pleased to offer the following additional services to our clients:
Conferences: Invitation to investor conference calls summarizing industry performance and outlook
Educational Services: Including Investor Conferences, Hedge Fund 101 Seminars, Industry Studies, White Papers, Seminars, and Manager Roundtable
Administrative Services: Including execution of hedge fund documentation and assistance with wire transfers
The Hennessee Group's, through a capital markets transaction, has exited the investment advisory business. Please refer to our announcement.

© 2012 Hennessee Group LLC, All Rights Reserved.