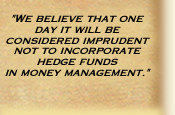 13th Annual Hedge Fund Manager Survey



Hennessee Group LLC
The Hennessee Group's 13th Annual Hedge Fund Manager Survey is available for purchase. The survey costs $2,500 USD and can be purchased by check (click here for order form) or credit card.
Introduced in 1995, the Annual Hennessee Hedge Fund Manager Survey is the oldest and most comprehensive hedge fund industry survey. The 2007 survey, which contains data for the year preceding January 1, 2007, includes responses from 605 hedge funds managed by 178 management companies, representing over $342 billion in assets.
The survey includes:
Insight into hedge fund asset growth and number of hedge funds over time
Statistics on hedge fund exposures (i.e., long, short, net, maximum) and portfolio characteristics (i.e., turnover, illiquid securities)
Transparency into sources of capital for hedge funds and industry regulation
Information on organizational structure, fees, terms, and conditions
Market share data for service providers (including auditors, lawyers, prime brokers and administrators)
Year over year comparisons and identified trends where appropriate
And much more…
To view Hennessee Group's press release on the survey with a selection of key findings, please click here. For details or questions regarding the 13th Annual Hennessee Hedge Fund Manager Survey, please contact Hennessee Group at (212) 857-4400.
About the Hennessee Group LLC
Hennessee Group LLC is a Registered Investment Adviser that consults direct investors in hedge funds on asset allocation, manager selection, and ongoing monitoring of hedge fund managers. Hennessee Group LLC is not a tracker of hedge funds. The Hennessee Hedge Fund Indices® are for the sole purpose of benchmarking individual hedge fund manager performance. The Hennessee Group does not sell a hedge fund-of-funds product nor does it market individual hedge fund managers. The Hennessee Group also publishes the Hennessee Hedge Fund Review monthly, which provides a comprehensive hedge fund performance review, statistics, and market analysis; all of which is value added to hedge fund managers and investors alike. Past performance is no guarantee of future returns. ALL RIGHTS RESERVED. This material is for general information only and is not an offer or solicitation to buy or sell any security including any interest in a hedge fund.

© 2007 Hennessee Group LLC, All Rights Reserved.